Michael Roberts was known for his audacious flavor combinations: shellfish and vanilla, peas and lime, or pickled pumpkin. His skills at combining flavors were on display at Trumps, his West Hollywood restaurant. Late night, he would amuse celebrities and guests by creating appetizing dishes from perversely mixed fresh ingredients that friends would bring in from California farms.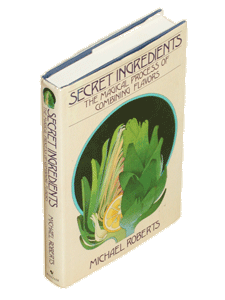 I had never heard of Trumps or Roberts until I stumbled on his cookbook Secret Ingredients in a used bookstore. What a wealth of unusual combinations! Martin, from Khymos, has assembled a list of uncommon food pairings that started from insights of François Benzi and Heston Blumenthal. Looking for ingredients that share naturally occurring chemicals, they and others after them have identified combinations that should go well together. Roberts was a natural at these pairings.
Trumps, together with Wet Beach Cafe in Venice and Michael's in Santa Monica, helped germinate in the 1980's the seed of California Cuisine planted by Chez Panisse in Berkeley. Trumps showed that an upscale restaurant could exist without giant chandeliers or marble fish ponds. Instead, it had concrete tables and the gurgle of a water fountain designed by Eric Orr (it's Orr's fountain on the corner of Wilshire and Figueroa in Los Angles). Roberts closed Trumps in 1992 to open Twin Palms in Pasadena with Kevin and Cindy Costner.
The recipes are French bistro style, but the flavor combinations have the Roberts twist. Keeping up such creativity can be challenging, so when Roberts' cooking slumped, bored with his own creations, he didn't mope in front of the TV with a tub of ice-cream. He packed up and went to explore the flavors of Pondicherry, Chennai, and Cochin in southern India. Such energy fills every page of the book.