Roses and apples seem perfect in a dessert. So the contrarian in me wants to match them in a savory dish. When trying out new flavor combinations I have tried to stick to small variations of well established dishes. I have noticed that people enjoy a bit of a surprise in a dish, but will shy away from too much innovation. I was getting nowhere with the rose and apples in a savory dish.
Then the weather in DC went from winter cold to summer hot in a week. Feeling lazy, my wife and I decided to have lunch from what was in the fridge. She had Indian dosas and I decided to cook the fennel bulb I had bought for a pear and fennel soup I like. Without trying I ended up with an entry for the TGRWT blog event. Round #17 pairs roses and apples and is being hosted by Lisa and Malin from Matmolekyler. I did not use the suggested apple, I have not seen Cox Orange or Elstar apples for sale in my neighborhood, so I hope the recipe counts as an entry.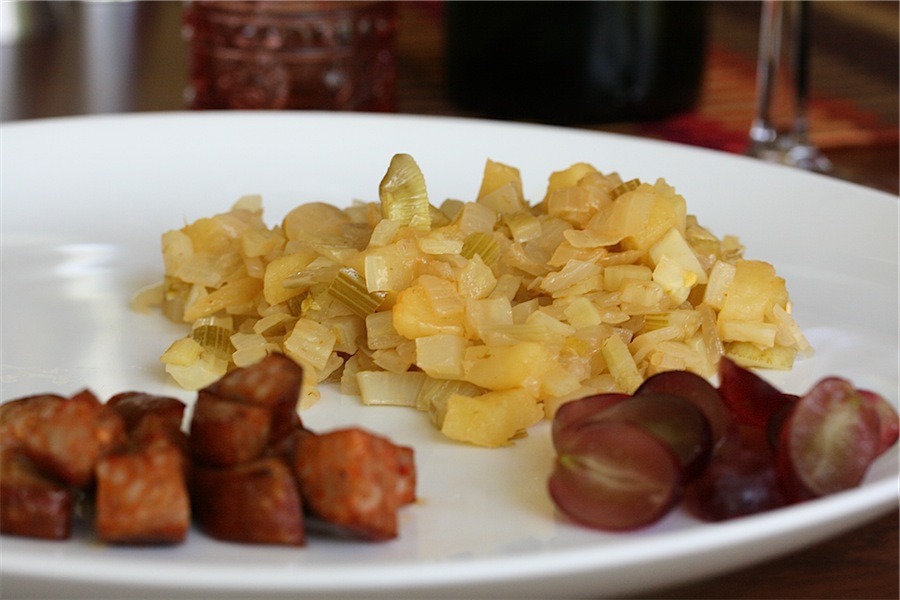 Sweet and spicy fennel
The heat of the dish comes from a chili sauce and the chorizo sausages. The apple and onions give it some sweetness and the white wine provides the tartness.
This was an on-the-stovetop dish, so the measurements are only approximate. I took one large onion and a fennel bulb of the same size and chopped them into small cubes (3 to 5 mm). I took two small chorizo sausages (3oz each, Wellshire Farms brand) and cut them into pieces of approximately the same size. I sautéed the sausages in oil, removed them from the pan and then sautéed the fennel and onions together. When the onion turned translucent, I added one cup of a sweet Riesling wine in which one tablespoon of a ready made sweet chili sauce had been diluted, added one chopped Golden Delicious apple, and covered the sauté pan, letting it all cook until almost dry. I then added one tablespoon of rose water and some salt, let it cook for a minute and served with the sausages.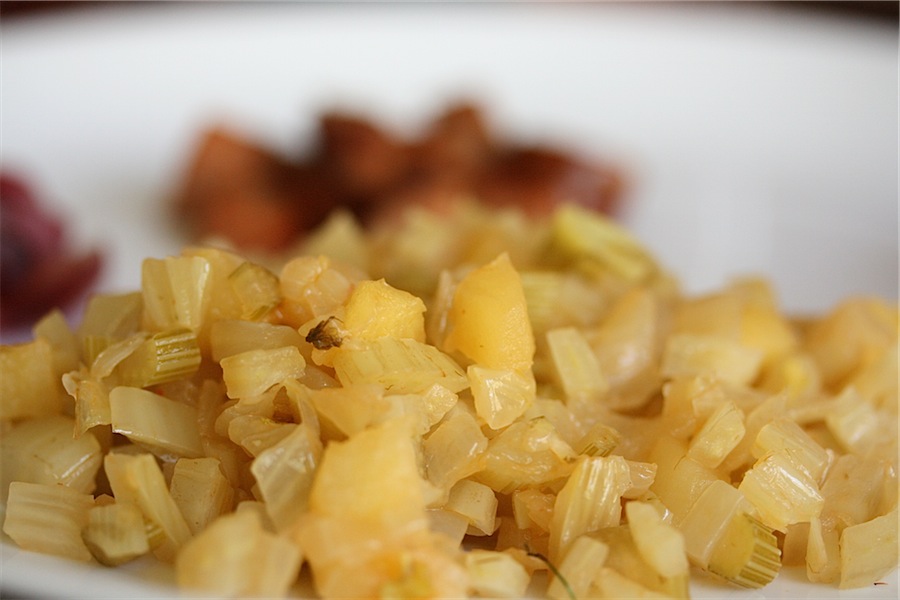 Did it work?
After lunch my wife and I shared the last Golden Delicious apple in the fridge. It was surprisingly bland, unlike the apple we had just tasted in the dish. Maybe the rose water, while just a subtle flavor, blended with the apple giving it notes that we have tasted in other apples.
At the table, I added a bit more rose water to my helping, but once the flavor became noticeable it also felt overwhelming. Neither my wife nor I liked the stronger version.